Well it looks like we made it. A week of reading has finally passed and I can say I'm no worse for the wear. I managed to finish 5 books that I wouldn't have normally read this quickly under different circumstances. While I didn't enjoy all of the books I read, I'm just glad to get them out of my TBR pile.
Now on to todays page counts. I finally finished
Dead Man's Folly
by Agatha Christie, which adds 96 pages to my total and brings it up to 1425 pages. I forgot to mention this in my Murder Mystery Monday post but for all those interested in the different adaptions of the book there is a fun hidden object game based on the story with the same title and there is currently a movie adaption starring Peter Ustinov as Poirot (I can't tell you how it is because I refuse to watch it. Ustinov is a terrible Poirot). For all those like myself who see David Suchet as the one and only Poirot, there will be an adaption
of Dead Man's Folly
starring him which is slated to be released sometime this year. I just wish they would hurry up and release it already.
Moving on. After that I picked up the book
Cards on the Table
by Agatha Christie and managed to read 60 pages.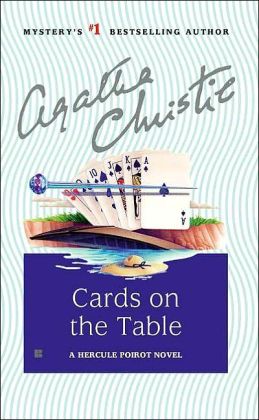 Factoring in those last few pages my final total for the entire Summer Read-a-thon challenge is.....
1485 pages!!
Now that this week is finally behind me I will sadly have to face reality and read my other summer reading book (not the fun kind, the college kind
sigh).
Maybe just one more Downton Abbey episode before then... :)